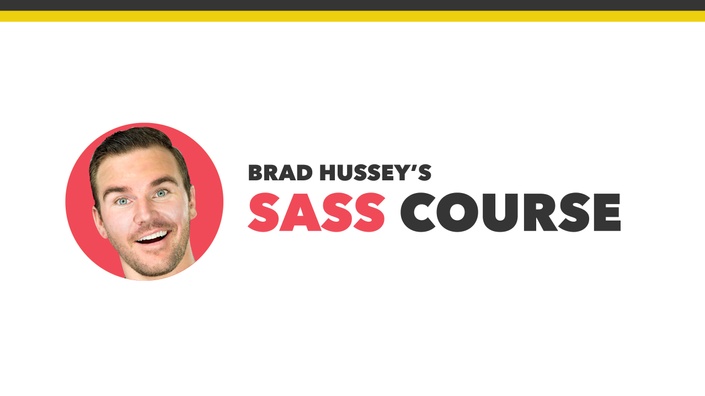 The Sass Course: Learn Sass for Real-World Websites
No B.S. Guide to Learning Sass Quickly! Improve Your Workflow and Style Time-Saving, Clean Websites
Watch Promo
Are you frustrated at how rapidly the web design & coding world is changing?
Do you feel like your skills are becoming out-dated and you just can't keep up with all of the new web languages?
Are you afraid your web design skills will become redundant if you don't learn something new?
Do you worry that you might not "have what it takes" to learn something new and complicated?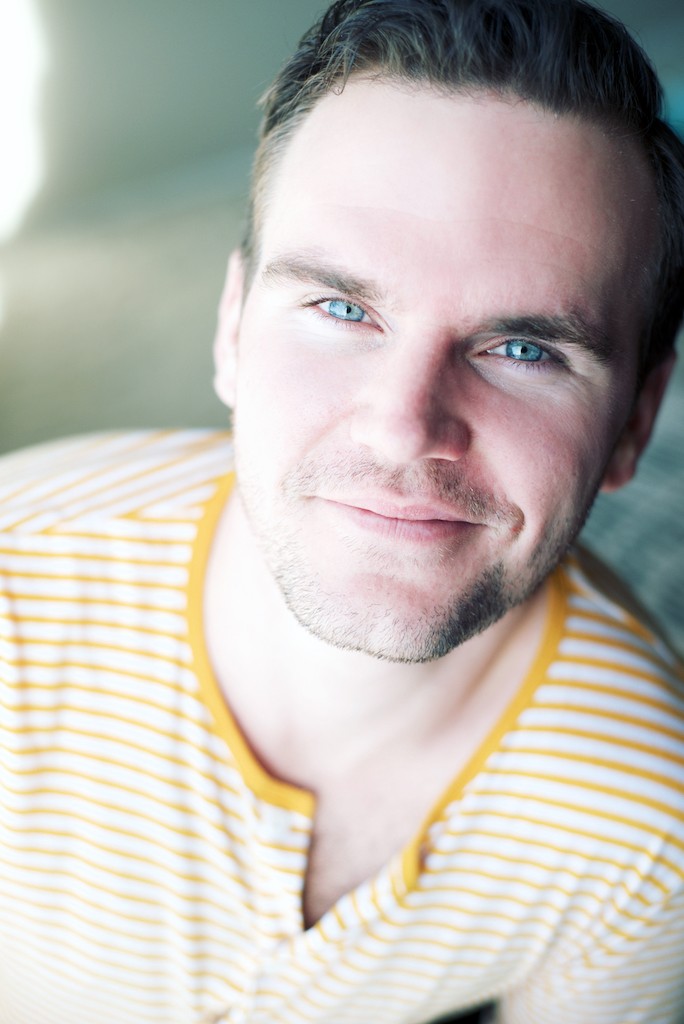 My name is Brad Hussey, and I have been a professional Freelance Web Designer for more than 7 years, so I know what it feels like to worry about being left behind in the web design world!
I always the need to keep up with all of the new technology, web languages, frameworks, tricks, strategies and fads! I've seen it all...
But you can stop worrying...right here and now!
I understand the difference between a passing fad, and what's here to stay.
And do you want to know what's here to stay?
...Sass!
Sass is what's known as a "pre-processor" language, and it basically supercharges your CSS so you can create flexible, clean and incredibly powerful stylesheets.
The entire purpose of Sass is to save you time & energy when styling websites and applications.
Why is this a good thing?
I've done some experiments and I've discovered that you can style websites 150% faster using Sass vs. CSS...

For example, let's say a custom web design project takes 50 hours to style in CSS (not unusual!)
In Sass, it would only take you 33 hours to style!
That's 17 hours of saved time per project...
Therefore, if you take on 3 web design projects per month, you'll save 51 hours each month...
That's the equivalent of...
63+ episodes of Downton Abbey

Taking an entire week off work

Booking a paid gig at $50/hour = that's an extra $2.5k

Walking around Central Park 25 times

Roadtrip from Los Angeles to New York

Taking on a part-time job at your favourite coffee shop
The question is, what would YOU do with a 150% increase in web design productivity?
...still not convinced?
I've taught more than 180,000 students on Udemy...

...over 26,000 on YouTube...
...and more than 16,000 students on my personal email list!
I am one of the most reviewed, top-rated coding instructors on Udemy...
and I create some of the most popular & engaging web design courses on the web today...
My courses are known to deliver tremendous results, and keep students coming back for more (and more)!

...and this course is no exception!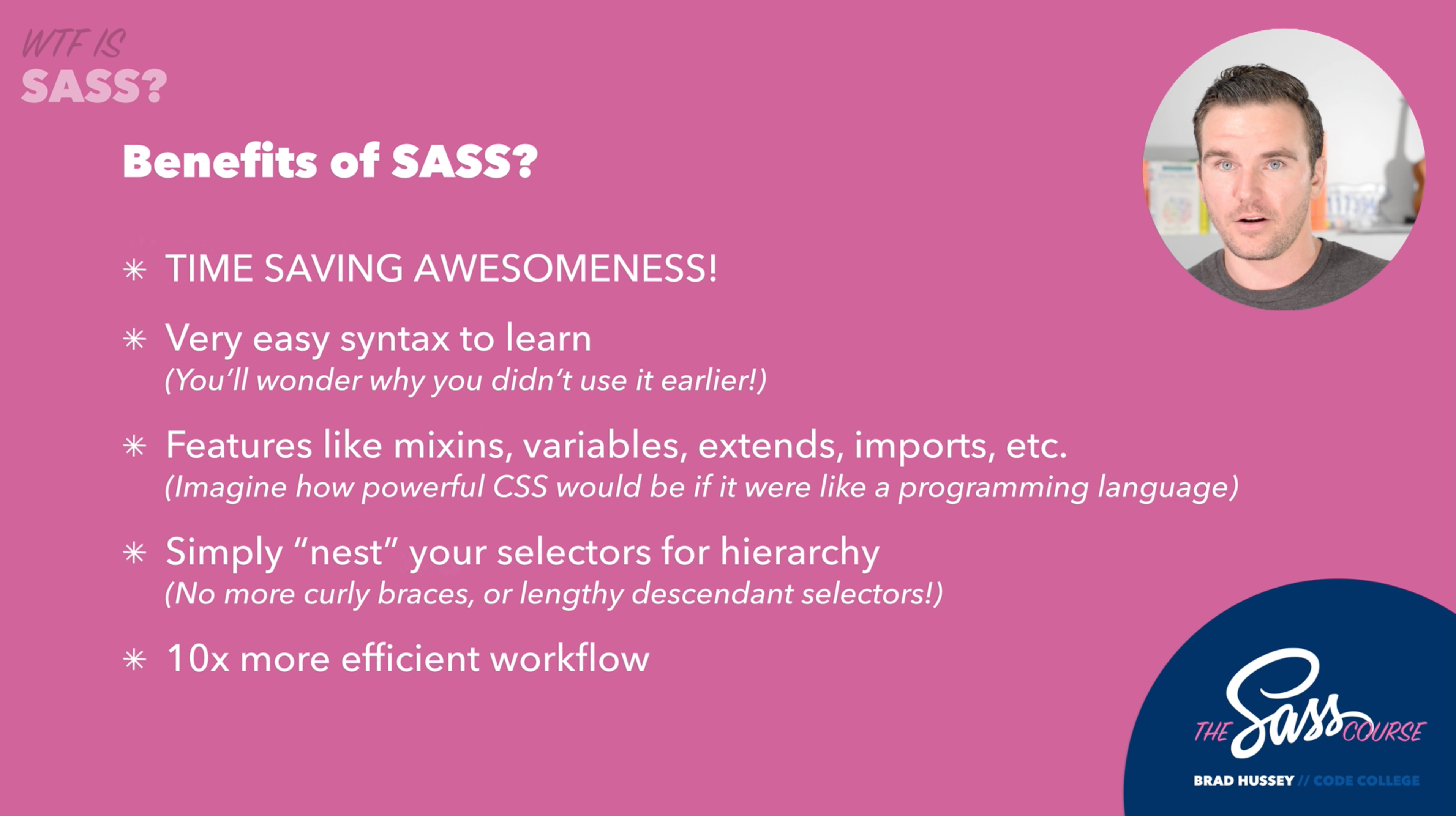 There are endless courses and instructors out there claiming to teach you the skills you want to learn, but many of them fail to deliver quality material...
They waste your time...
They mumble into the mic...
You barely learn anything...
...and some of them are so boring that you fall asleep (been there, done that)!
The Sass Course is a highly engaging coding course, jam-packed with value and hands-on lessons, and sprinkled with entertainment and humour!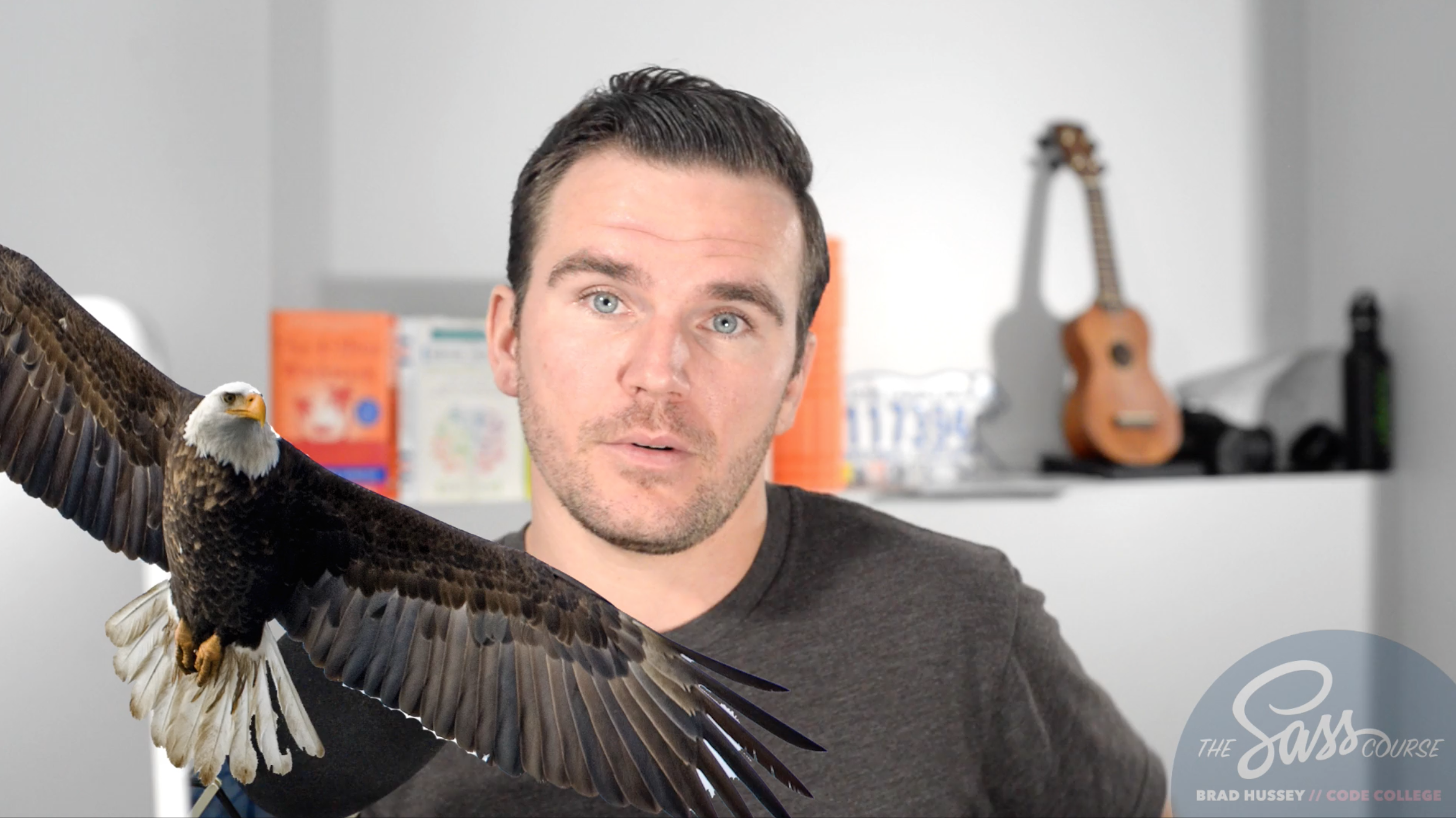 From beginning to end, you'll be learning by DOING...
Every single minute is valuable, and I guarantee you'll see results from this course!
Don't believe me?
Take the entire course...
...and if you don't see value, experience results, feel it's not worth your time or money, or fall asleep even once...
You're protected with a 100% money-back guarantee! Simply request a refund within the first 30-days, and you'll get your investment back, no questions asked.
So, how about it?
Are you ready to STOP feeling frustrated, and START taking control of the skills you want to learn to succeed as a web designer today?
Let's get started!
See you on the other side :)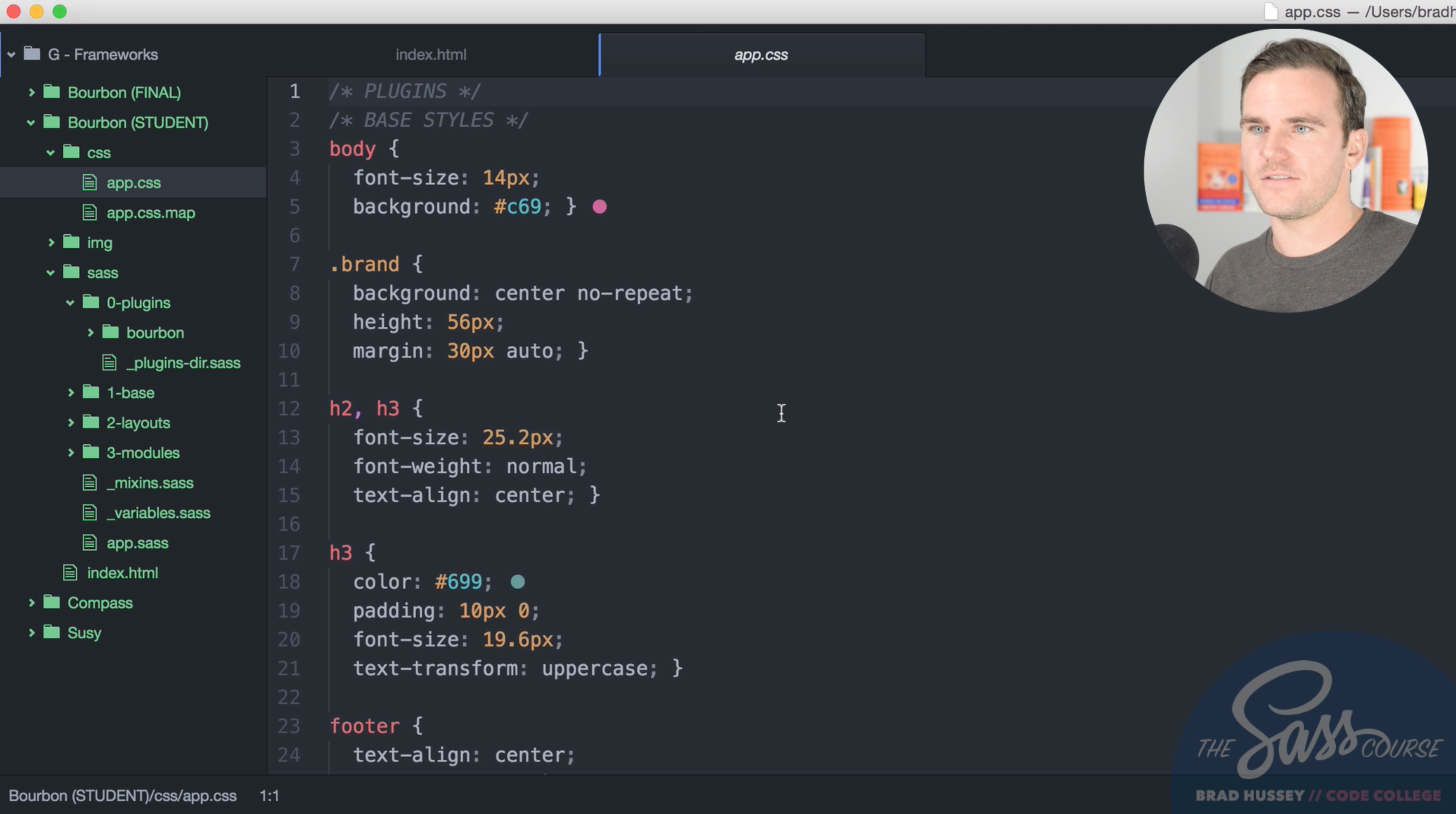 What are the requirements?
The course covers all required setup & installation

No previous knowledge or experience necessary with Sass or Frameworks

You should have an understanding of HTML & CSS

You should have basic computer & Internet skills

You should have a sense of humour
What am I going to get from this course?
Design & code custom websites much quicker than before

Style websites using Sass with confidence and ease

Use Sass in Real World Projects

Install & compile Sass quickly and easily with the Command Line (and other tools)

Optimize your Sass Workflow with Frameworks like Compass, Bourbon and Neat

Style a beautiful Portfolio Landing Page (that you can use as YOUR portfolio!)

Choose a code editor that works best for your environment and workflow

Understand best practices for styling scalable websites

Use and understand Variables, Partials and Imports to make your stylesheets incredibly flexible and easy to navigate

Code Mixins in order to save keystrokes and recycle CSS styles

Take advantage of Extends in order to share chunks of CSS properties between selectors

Understand where to learn more, and extend your knowledge of Sass

Access a community of likeminded designers, coders and students
What is the target audience?
You feel you're being left behind in the fast-paced, rapidly changing web design industry, and want to keep your skill up-to-date

You desire to style your websites at record speeds so you can finish client projects sooner

You want to be able to build websites that scale to any size

You struggle with improving your workflow and productivity when it comes to styling websites

You struggle with messy CSS, repetitive styles, and difficult to understand code

You desire to have the ability to quickly and painlessly update your website design

You struggle with starting web design projects from scratch, and want an easier to get started quickly

You design websites for clients, and you want to complete projects faster

You design websites for your agency, and you want to complete projects faster in order to impress your superiors
Get a giggle from the blooper reel of the course
A ton of work goes into the editing stage of my videos, tutorials and courses; a polished 10 minute tutorial starts out as 20 minutes of footage with 10 minutes of flub ups, bloopers, and me generally looking like a fool.
It's all good though! I thought you'd enjoy seeing the reality of what goes on behind the scenes, and before everything gets edited, clipped, polished and published :)
Your Instructor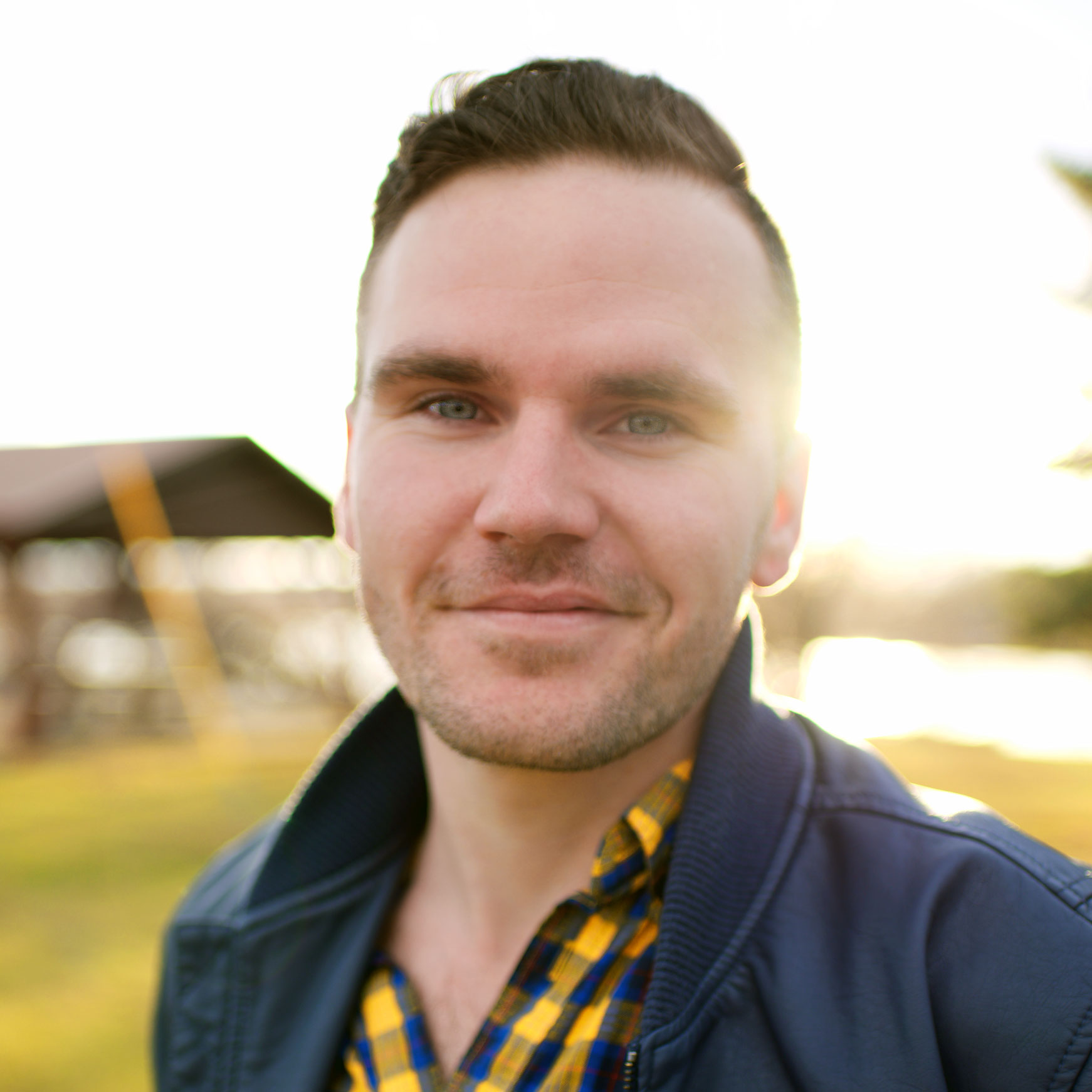 About Brad Hussey
A highly skilled professional, Brad Hussey is a passionate and experienced web designer, developer, blogger and digital entrepreneur. Hailing from North Of The Wall (Yellowknife, Canada), Brad made the trek to the Wet Coast (Vancouver, Canada) to educate and equip himself with the necessary skills to become a spearhead in his trade of solving problems on the web, crafting design solutions, and speaking in code.
Brad's determination and love for what he does has landed him in some pretty interesting places with some neat people. He's had the privilege of working with, and providing solutions for, numerous businesses, big & small, across the Americas.
Brad builds custom websites, and provides design solutions for a wide-array of clientele at his company, Brightside Studios. He regularly blogs about passive income, living your life to the fullest, and provides premium quality web design tutorials and courses for tens of thousands of amazing people desiring to master the craft.
210,000+ Students Don't Lie
Join Brad and adventure into his world of web design, web development, speaking in code and cracking jokes. You won't regret it!
What are people saying about Brad?
"[Brad is] the BEST coding instructor on the planet. Brad has a passion for teaching and he does it with joy. He pours his heart into his lessons and makes you feel at ease. It's just like having your best buddy having a chat with you - only this time, you are learning valuable skills. He's the type of guy who is passionate about transforming people's lives through his lessons. He's not after the money. He truly wants you to succeed. Three hearty cheers to Brad - the best coding instructor on planet Earth."
— Cicero, a Student of Brad's
"...These videos are well created, concise, fast-paced, easy to follow, and just funny enough to keep you chuckling as you're slamming out lines of code. I've taken 3 courses from this instructor. Whenever I have questions he is right there with a simple solution or a helpful suggestion to keep me going forward with the course work."
— Brennan, a Student of Brad's
"...Brad is amazing and I honestly think he's the best tutor of all the courses I have taken on Udemy. Will definitely be following him in the future. Thanks Brad!"
— John, a Student of Brad's
"...Brad has an infectious enthusiasm, a great eye for detail, and expert-level knowledge of the material."
— Sue, a Student of Brad's
About Code College
Code College is an online school that provides high quality learning material, courses, and training videos for students looking to learn web design, web development, marketing, online business, and more!
Founded in 2014 by Canadian entrepreneur, successful instructor, and blogger, Brad Hussey, Code College is a growing network of highly skilled instructors who provide the best quality tutorials, courses and learning material on the web.
Course Curriculum
Module 1: Let's Get Sassy!
Available in days
days after you enroll
Module 2: Sass Tools, Workflow & Environment Setup
Available in days
days after you enroll
Module 3: Exploring Sass Features
Available in days
days after you enroll
Frequently Asked Questions
When does the course start and finish?
The course starts now and never ends! It is a completely self-paced online course - you decide when you start and when you finish.
How long do I have access to the course?
How does lifetime access sound? After enrolling, you have unlimited access to this course for as long as you like - across any and all devices you own.
What if I am unhappy with the course?
We would never want you to be unhappy! If you are unsatisfied with your purchase, contact us in the first 30 days and we will give you a full refund.
Will this course be sold on Udemy?
This version of The SASS Course is exclusive to Code College. There will be a minified version of the course on Udemy, and some excerpts from the course on YouTube, but you will not find this full version course anywhere but Code College!