Let's review the modules designed to help you break free and start living a life on your terms, not anyone else's…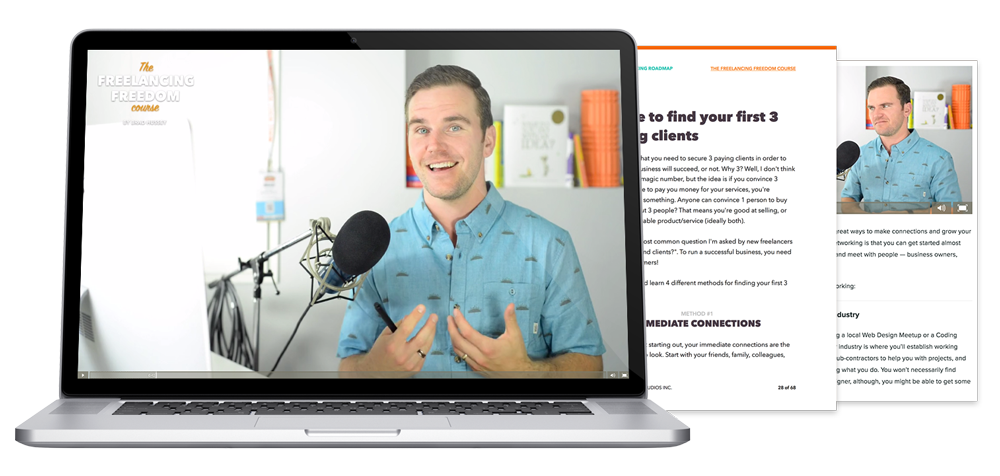 Module 1: Where Do I Get Started?
And so it begins! You'll receive your New Freelancer Toolkit so you can get started upon registration, be introduced to like minded people and start setting outlandish goals...with a proven process to accomplish them!
Included in the New Freelancer Toolkit, you'll receive:
Your personalized goal setting worksheet to kiss procrastination goodbye forever!
Your freelancing lead sheet, so you never lose track of hot leads and your top paying clients again.
The Freelancer Focus Pyramid -- the essential resource to know exactly where to spend your time (and where most people fail with this…)
Done-for-you swipe files and email templates to help you with those critical moments of communication, closing a deal and the right way to ask for referrals
...and more -- you'll know this course was worth it even with just this module!

Module 2: Finding Your Freelance Niche
The riches are in the niches! Aiming to serve everyone means you'll get lost in the crowd, instead we'll deep into your strengths & weaknesses and find your specific freelancing niche.
In this module, we're going to learn how to "niche down" as a freelancer, and which disciplines & skills we should be focusing on in order to best serve our clients. We'll also dive deep into why you don't need to learn everything before actually jumping in to something -- i.e. you don't need to master Front-End Development before getting paid as a Front-End Developer, etc.
Module 3: Your Portfolio
Should you sacrifice finding work to craft that perfect portfolio website? Or should you abandon the pretty, mosaic-style portfolio theme you just bought for $49 on ThemeForest and book a paid client first?
Think about that for a second...
In this module, we're going to find out when you should focus on building that perfect portfolio website, and when you should forget about it. We'll also focus on the different approaches to setting up a portfolio website, using WordPress vs. coding from scratch, and very importantly, what you should and should not include.
Module 4: Pricing
How much money should you charge? Should you charge low and book as much cheap work as possible? Or should you charge super high, but risk losing some of your clients?
We're going to discover the 3 different types of pricing models you can take advantage of as a freelancer, we'll learn how to realistically predict time & cost when estimating projects for clients, and we'll find if it's possible to increase our rates (up to 2X) without making our clients angry.
Module 5: Groundwork for Getting Clients
What if you could generate leads on demand, connect with others and sell yourself so well that people are lining up to work with you?
Before we dive headfirst into getting clients, marketing ourselves, and building our empire, we need to start simple. We need to lay the groundwork for getting clients. Who is your target client? How do you find out who they are? Why does your target client hire freelancers in the first place? How do you speak to potential clients? How do you sound professional, sell yourself, and not feel like a sleazeball?
We'll cover all of this and more in this module.
Module 6: Getting Clients
An extension to the prior module, we'll dive deep into next level strategies for crushing client meetings and being positioned as the only choice for your prospects.
You've discovered your why, found your niche, established your price, crafted your offering, and prepared ourselves for getting clients — it's in this module where we'll dive into the deep end and focus on getting clients!
You'll learn...
4 entirely different ways of finding, attracting and signing clients
How to contact & follow up with leads
How to nail client meetings with a simple trick
Module 7: Advanced Client Strategies
In this module we'll learn the difference between many clients & premium clients, acquire some advanced strategies for securing quality clients, and building rapport instantly.
Module 8: Client On-Boarding
Imagine having an automated system for on-boarding new leads, scheduling client calls, sending proposals & contracts and getting paid on time — saving you all the hassle and allowing you to focus on what you do best.
Module 9: The Project Lifecycle
In this module we'll dive deep into how to plan & manage a project from start to finish, taking over existing client websites, keeping the communications lines clear with your client, getting good feedback, receiving final payment and how to properly follow up when you finish a project to increase referrals.
Module 10: Managing Your Business
Freelancing is a business and in this module we'll tackle the grown up stuff such as keeping track of clients, finances, and if you should incorporate or hire an accountant so you'll never be surprised come tax-time.
Module 11: How to Create a Steady Income
The #1 issue with freelancing is inconsistent income and you can kiss that goodbye by creating recurring, predictable revenue streams. Imagine unlocking your phone in the morning and seeing that you made money in your sleep!
Bonus Module: Freelancing Tools & Resources
In this module we'll learn all about the most valuable tools, software, apps, books, podcasts and resources available to you in your freelancing business
Bonus Module: Studio Session Replays
In this course we'll meet for monthly Live Studio Sessions where students can ask the instructor questions and get answers in real time. In this module you'll get to watch previously recorded Q&A sessions.
Bonus Resource: The Rolodex
This resource contains a Private Freelancers Job Board that pulls data from all of the most popular and valuable job boards across the Internet, and provides you with dozens of new freelancing leads, remote jobs, gigs, telecommute positions, and more — every single day. You'll never again say "I don't know where to find jobs..."
You'll also be able to access an ever-growing list of Freelancers within the course who are available for hire, collaboration, or to help you out in a sticky situation! You can even add your name to the list!